Powder Coating Technology.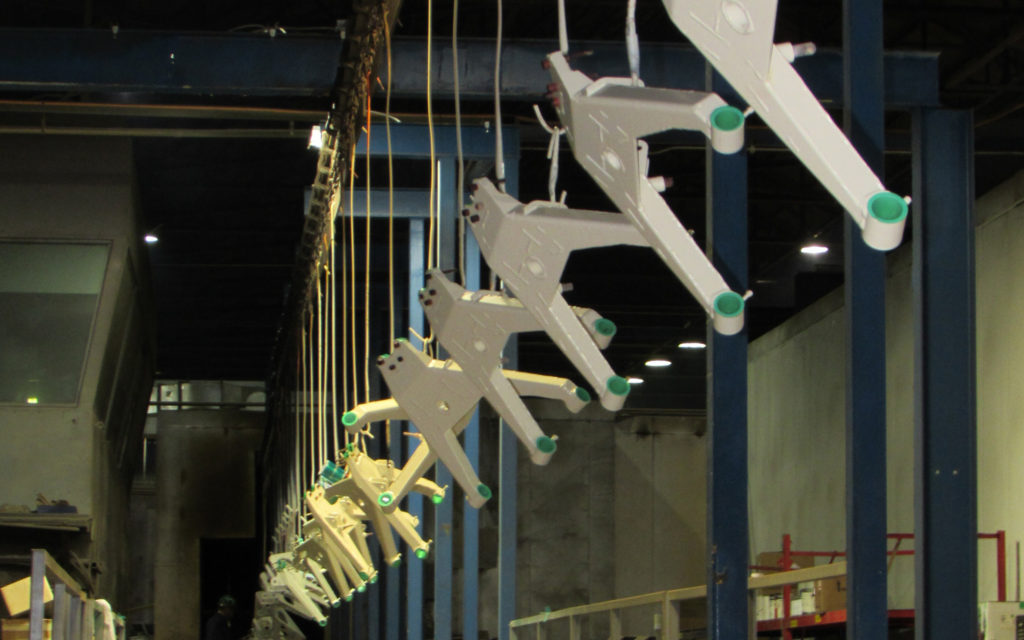 JWF Industries provides high quality chemical agent resistant coating (CARC) and powder coating for finished products. CARC creates a non-porous coat that provides resistance to radioactivity and biological contaminants seen in chemical warfare. These coatings can also withstand the corrosive nature of decontaminating chemicals used to wash military equipment.
We are the largest non-dedicated powder coating line east of the Mississippi River in part size, weight, and quantity of parts per day.
---
Paint Line
60,000 square foot automated powder coating / wet coating CARC paint line
Blast, prime, paint, and powder-coating capabilities
Carbolin, water and epoxy based paints
Military and commercial requirements
Automated Coating Line
2,100 foot conveyor capable of handling 6,000 pounds per part
Seven-stage stainless steel washer with phosphate coating system
Pre-treat and coat parts to various military specs including TT-C-490, MIL-DTL-5541, and MIL-DTL-53072
Zinc phosphate
Custom part marking
Custom part packaging
Part kitting
Large Part Powder Coating
40′ x 20′ x 20′ large part powder coat paint system
30′ x 20′ x 12′ drive thru 500 degrees gas fired oven
16′ x 30′ garnet blast booth
16′ x 30′ glass blast booth
20′ x 20′ x 60′ steel grit blast booth
Large Part Painting
20′ x 20′ x 60′ paint booth
100′ x 20′ x 20′ rail car capable enclosed paint room