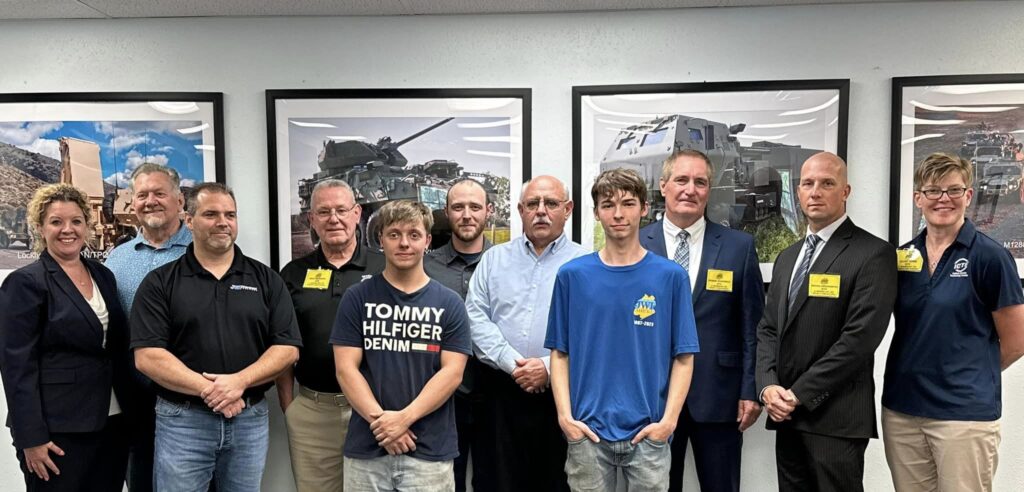 Johnstown, PA (August 22,2023)– Over the course of the last two school years JWFI Training Coordinator, Ed Bowser, has worked with ICTC Cooperative Education Coordinator, Keith McCracken, and Director, Michael McDermott, to produce the first U.S. Department of Labor recognized Welding Pre-Apprenticeship Program in Western, PA.
Ed Bowser is excited about the opportunity that this program will bring to area students. "We would like to take this opportunity to thank Danielle Demirovic and James Chiarchiaro from the Pennsylvania Department of Labor and Industry for assisting in establishing this tremendous student learning endeavor. JWF industries believes that this pre-apprenticeship program is a comprehensive program that will provide welding students the opportunity to experience real world hands-on training in the welding profession, while working at one of our production welding facilities."
Through this program, students will gain the following benefits and insights into the working world:
-Paid Job – Apprentices are paid employees who produce high-quality work while they learn skills that enhance their employers' needs.
-On-the-Job Learning – Develops skilled workers through structured learning in a work setting.
-Classroom Learning – Improves job-related skills through education in a classroom setting (virtual or in-person).
-Mentorship – Provides apprentices with the support of a skilled worker to assist and enhance critical hands-on learning.
-Credentials – Offers a portable, nationally recognized credential to be issued at the completion of the program.
Registered Apprenticeship is an industry-driven, high-quality career pathway where employers can develop and prepare their future workforce, and individuals can obtain paid work experience, receive progressive wage increases, classroom instruction, and a portable, nationally-recognized credential. – (from the US DOL / APPRENTICESHIPUSA website)
Business Leaders:
▶ Vet workers and instill the company's culture
▶ Recruit and develop a diverse and highly skilled workforce
▶ Improve productivity, profitability, and the company's bottom line
▶ Reduce turnover, improve loyalty, and retain top talent
▶ Demonstrate investment in the community
Career Seekers:
▶ Earn as you learn with a guaranteed wage increase as you develop new skills
▶ Receive a nationally-recognized, portable credential
▶ Ease the transition from school to career by working and learning at the same time
▶ Gain workplace-relevant skills in the field of your choice through on-the-job learning
▶ Get academic credit towards a college degree for the skills you learn while avoiding student debt
▶ Connect with mentor(s) in your chosen industry who can help you advance your career
There are two entry points into the JWFI Registered Pre-Apprenticeship program. ICTC Students may enter starting in the summer after their junior year as a Summer Co-Op student through ICTC, or as a senior immediately after graduation.
After each junior student completes the summertime employment portion of this program, they can continue the program at JWFI by applying for a co-op as they begin their senior year. Upon graduation, students who successfully complete the high school Pre-Apprenticeship program may be offered full-time employment and continue through the Registered Apprenticeship through JWFI. Graduating seniors will not only benefit from the advanced training they would receive at JWF Industries but also receive advanced placement in the production level of the welding apprenticeship program plus benefit financially (via wage increases) from completing competencies.
Here is how it works:
After 90 days of work (through summer employment and/or co-op hours), pre-apprentices will have the JWF Industries probation period waived upon acceptance of full-time employment as apprentices. Total hours possible for a Pre-Apprentice to receive in advanced credit upon being hired as an apprentice range from 792 to 1312 hours.
The hour breakdown is as follows:
360 RTI + 432 OJT = 792 hours
360 + 520 OJT (co-op) + 432 OJT = 1312 hours
Successful pre-apprentices will also receive credit towards the two required welding certifications upon accepting full time employment.
Successful pre-apprentices will also receive a substantial hourly pay increase, upon accepting full time employment.
RTI = Related Technical Instruction
OJT = On the Job Training
Note: Each successful high school welding students will enter the Production Level of the state approved apprenticeship program at JWF Industries. Participating students will be required to complete the modules associated with the production level while attending Indiana County Career Center their junior and senior year. In addition, summer interns will also be required to attend JWF's welding school for approximately six weeks in the summer of their junior year. While attending class each student will practice specific welds and be required to pass two certifications associated with the Production Level of the apprenticeship program. Students who graduate from high school and transition into full-time employment at JWF Industries will receive approximately a two dollar per hour incentive for completing the Production Level Modules and passing the welding certifications.
About JWF Industries
JWF Industries designs, manufactures, and integrates metal centric products by growing with the right people, the right processes, the right markets, and the right customers. Capabilities include program management, engineering, laser services, welding, forming, machining, and coatings. JWF Industries and JWF Defense Systems has locations in Johnstown, PA; Baltimore, MD; Davisville, WV; and Edenton, NC.
Founder William (Bill) Polacek, President and Chief Executive of JWF Industries, started the company 36 years ago in a two-car garage with the goal of growing the company to create local jobs. Today, the company has operating sales over $100 million. It occupies over 1.3 million square feet of manufacturing space and currently employs over 400 professionals. The company's growth and success were achieved by developing and promoting skilled workers and leaders from within.
The company is dedicated to its employees, its communities, and its global customers in the energy, commercial, and defense industries. To learn more about JWF Industries, visit www.jwfi.com.