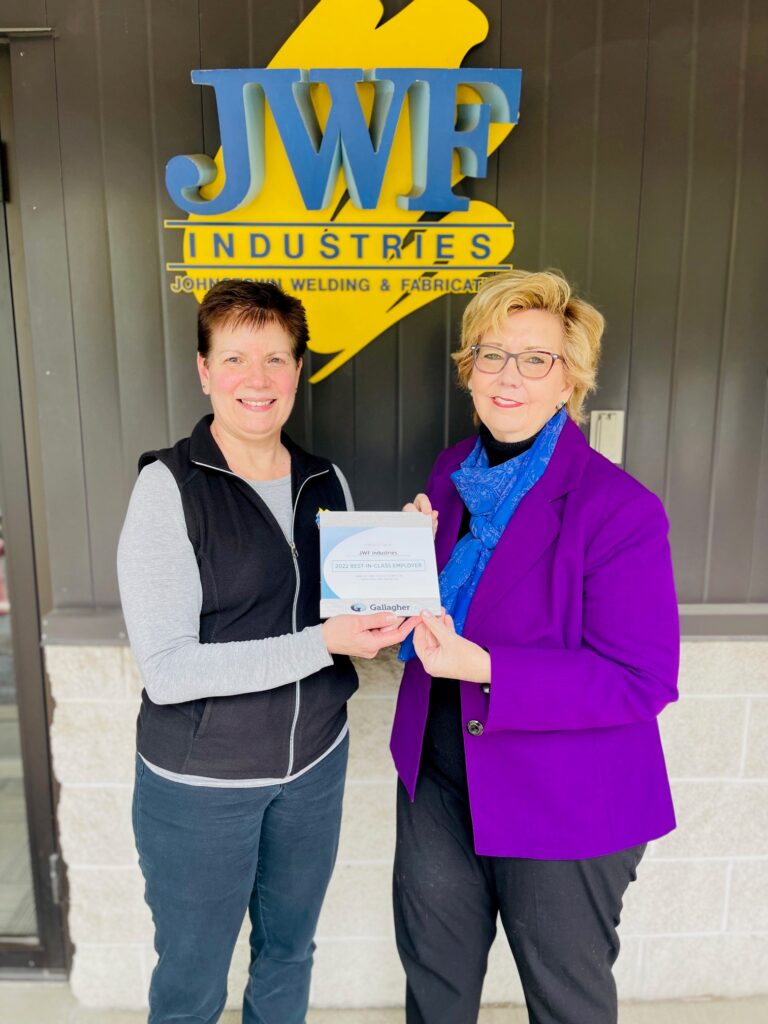 Johnstown, PA (April 28, 2023) — JWF Industries participated in Gallagher's 2022 U.S. Benefits Strategy & Benchmarking Survey and was identified as an organization that excelled in optimizing employee and organizational wellbeing. JWF was recognized for its comprehensive framework for strategically investing in benefits, compensation and employee communication to support the health, financial security and career growth of its employees at a sustainable cost structure. Designations like Gallagher's Best-in-Class Employer help current and potential employees understand and appreciate an organization's workplace culture and people strategy; important differentiators as employers compete for talent in a tight labor market.
When reflecting on the award, Tom Polacek, Executive Vice President of Employer of Choice stated, "At JWF Industries we pride ourselves in offering wonderful healthcare and retirement benefits to all of our employees. We consistently receive high marks from our employees through formal and informal surveys. Part of our Purpose is to help our people to become healthy and happy employees and retirees. We are most honored to have received this award recognition as it helps exemplify our commitment to our JWFamily."
A U.S. Best-in-Class Employer, JWF Industries was assigned points based on its relative performance in:
Planning horizons for the benefits and compensation strategies
Extent of their wellbeing strategy
Turnover rate for full-time equivalents (FTEs)
Completion of a workforce engagement survey
Use of an HR technology strategy and its level of sophistication
Difference in healthcare costs over the prior year
Use of a communication strategy
"JWF Industries was recognized as a U.S. Best-in-Class Employer because of how they approach organizational priorities with a long-term outlook; provide high-quality, high-value benefits; and build and solidify a strong organizational culture through their communications," said William F. Ziebell, CEO of Gallagher's Benefits & HR Consulting Division "In doing so, JWF invests in the whole employee by providing distinct and relevant wellbeing resources that will attract and retain talent."
About the Best-in-Class Benchmarking Analysis
Gallagher's U.S. Best-in-Class Benchmarking Analysis profiles statistically significant attributes of top-performing midsize (100-999 FTEs) and large employers (1,000 or more FTEs). Data from Gallagher's 2022 U.S. Benefits Strategy & Benchmarking Survey was interpreted to identify participants that excel in optimizing employee and organizational wellbeing.
About JWF Industries
JWF Industries designs, manufactures, and integrates metal centric products by growing with the right people, the right processes, the right markets, and the right customers. Capabilities include program management, engineering, laser services, welding, forming, machining, and coatings. JWF Industries and JWF Defense Systems has locations in Johnstown, PA; Baltimore, MD; Davisville, WV; and Edenton, NC.
Founder William (Bill) Polacek, President and Chief Executive of JWF Industries, started the company 36 years ago in a two-car garage with the goal of growing the company to create local jobs. Today, the company has operating sales over $100 million. It occupies over 1.3 million square feet of manufacturing space and currently employs over 400 professionals. The company's growth and success were achieved by developing and promoting skilled workers and leaders from within.
The company is dedicated to its employees, its communities, and its global customers in the energy, commercial, and defense industries. To learn more about JWF Industries, visit www.jwfi.com.