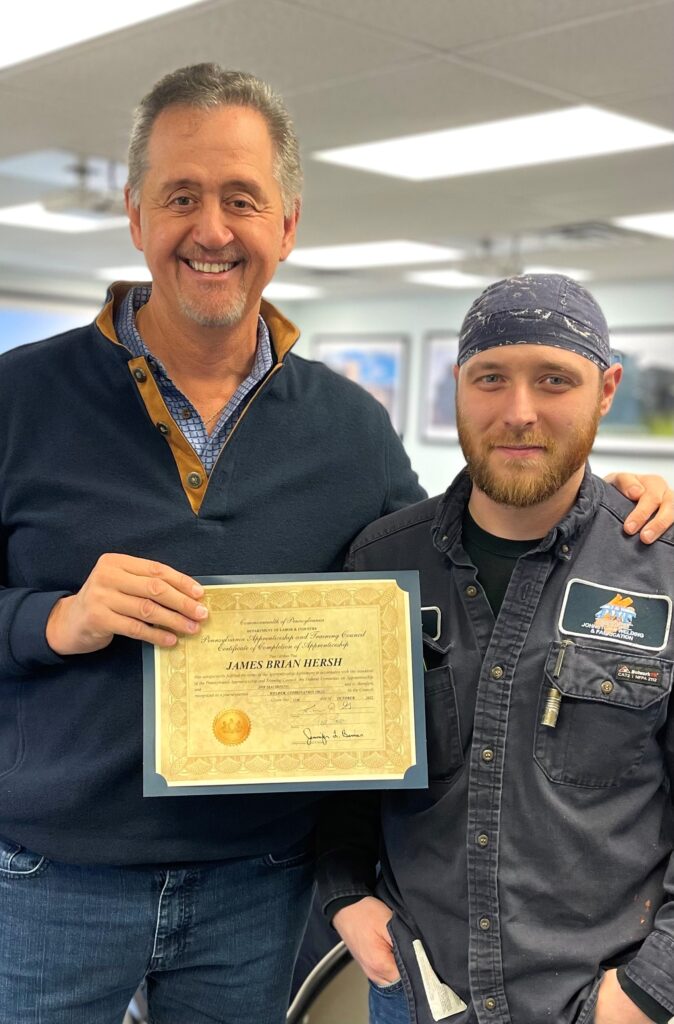 Johnstown, PA (January 31, 2023)– James Hersh has become the first JWF Industries Employee to complete the state-approved apprenticeship program at the company. Through the program, James was able to start as a Production Welder and work his way up to a Lead Welder.
The JWF Welding Training Program is a state-approved apprenticeship program which has multiple components including hands-on welding training, independent book work, leadership training, and college level classes. The goal of the program is to develop welders into Lead Welders who can take on any challenge while obtaining their Pennsylvania State Welding Journeyman papers.
"Jim entered the apprenticeship program so that he had a deliberate path to not only improve his manufacturing skills – he also saw this as a step towards enhancing his leadership skills, which is exactly what the apprenticeship program was designed to do," states JWF Industries President and CEO, Bill Polacek. "Jim has a bright future at JWF and I look forward to him becoming more than he even thought he could become!"


About JWF Industries
JWF Industries designs, manufactures, and integrates metal centric products by growing with the right people, the right processes, the right markets, and the right customers. Capabilities include program management, engineering, laser services, welding, forming, machining, and coatings. JWF Industries and JWF Defense Systems has locations in Johnstown, PA; Baltimore, MD; Davisville, WV; and Edenton, NC.
Founder William (Bill) Polacek, President and Chief Executive of JWF Industries, started the company over 35 years ago in a two-car garage with the goal of growing the company to create local jobs.
Today, the company has operating sales over $100 million. It occupies over 1.3 million square feet of manufacturing space and currently employs over 400 professionals. The company's growth and success were achieved by developing and promoting skilled workers and leaders from within.
The company is dedicated to its employees, its communities, and its global customers in the energy, commercial, and defense industries. To learn more about JWF Industries, visit www.jwfi.com.