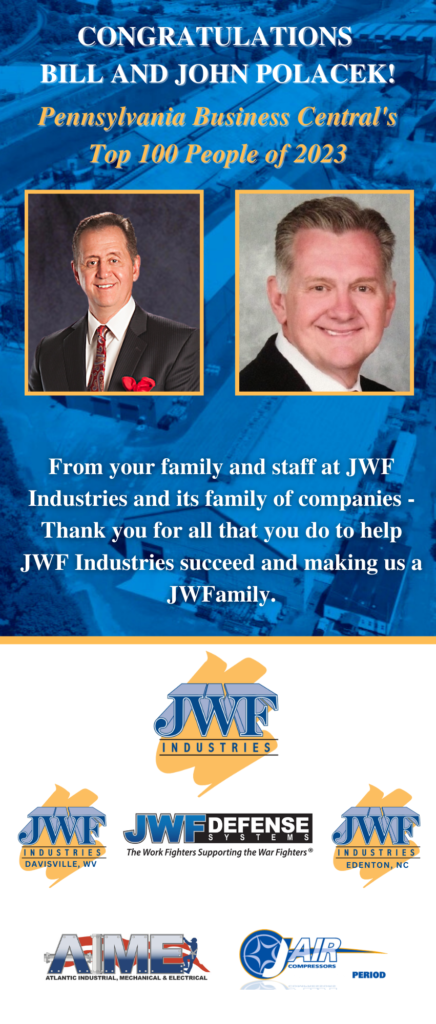 Johnstown, PA (January 27, 2023) -Each year, Pennsylvania Business Central celebrates the New Year by highlighting the Top 100 People in business and economic development who have made a dynamic and significant impact on their organizations and communities. William C. Polacek, President and Chief Executive Officer of JWF Industries, has been recognized as one of these Top 100 Business People along with his brother, John J. Polacek, Chief Operating Officer at JWF Industries.
Bill has earned this honor twelve times, beginning in 2010, and is now joined by his brother, John, for the first time on the list. In their own respective ways, Bill and John have both developed JWF Industries and its family of companies into thriving businesses with hundreds of employees. Strong family values are the foundation of the organization and are key driving points behind every decision that is made in order to keep the business on the upward trajectory that we have seen over the years.
Bill stated, "This humbling honor is a direct result of all our professional JWFamily members and their belief and execution on a vision. Now having my brother John joining this prestigious honor together makes it even better – our parents are beaming in heaven."
"It is both a privilege and honor to receive this award. This is a testament to our JWFamily who works day and night to support our war fighters," said John Polacek.
Committed to their local Johnstown community, both Polaceks contribute their time and efforts to various community boards and organizations. Bill is a founding member and chairman of Johnstown's Vision Together 2025 initiative and serves on, and is a past chairman of, the Johnstown Area Regional Industries Board (JARI). He is a past board member of Memorial Medical Center, East Hills Recreation Commission, Mom's House, Johnstown/Cambria Airport Authority (past Chairman), and Mount Aloysius.
John Polacek serves on the board of American Red Cross Board-Keystone Chapter (former Chapter Chairman), Cambria Regional Chamber of Commerce (past Chairman), Veteran Community Initiatives, Penn Highlands Foundation Board, UPJ Advisory Board, Johnstown Area Regional Industries (JARI) Defense Council, as well as a past board member of the Girls Scouts Western Pennsylvania Board.
For the complete Top 100 list, visit pabusinesscentral.com/top-100-people.
About JWF Industries
JWF Industries designs, manufactures, and integrates metal centric products by growing with the right people, the right processes, the right markets, and the right customers. Capabilities include program management, engineering, laser services, welding, forming, machining, and coatings. JWF Industries and JWF Defense Systems has locations in Johnstown, PA; Baltimore, MD; Davisville, WV; and Edenton, NC.
Founder William (Bill) Polacek, President and Chief Executive of JWF Industries, started the company 35 years ago in a two-car garage with the goal of growing the company to create local jobs. Today, the company has operating sales over $100 million. It occupies over 1.1 million square feet of manufacturing space and currently employs over 400 professionals. The company's growth and success were achieved by developing and promoting skilled workers and leaders from within.
The company is dedicated to its employees, its communities, and its global customers in the energy, commercial, and defense industries. To learn more about JWF Industries, visit www.jwfi.com.